Substantially Improve Protein Electrophoresis Resolution!
Clean Up & Concentrate Samples Prior To Electrophoresis
Removes All Electrophoretic Interfering Agents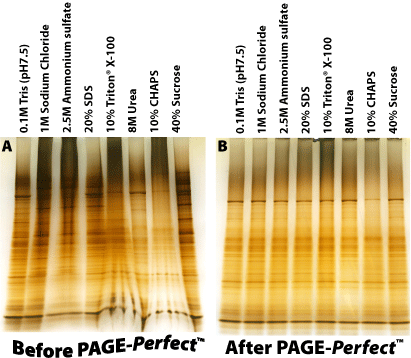 Protein electrophoresis is normally one of the last steps in protein studies. It can also be one of the most frustrating as staining slowly reveals smeary, streaky or smiley protein gels. Hours and days of protein purification wasted due to poor electrophoresis.
For reproducible, quality resolution and publication quality gels, use PAGEPerfect!
Removes ALL Electrophoretics Interfering Agents
Eliminates Streaking & Smearing
No More Smiley Bands!
The application note shows how PAGEPerfect efficiently and effectively removes a large range of electrophoretic interfering agents, including:
Detergents
Salts
Chaotropes
Sugars
Download the free application note to find the key to better protein resolution!