Protein gel electrophoresis guide for SDS-PAGE and 2D gel electrophoresis
Gel Casting, Sample Preparation, Protein Markers, Electrophoresis & Staining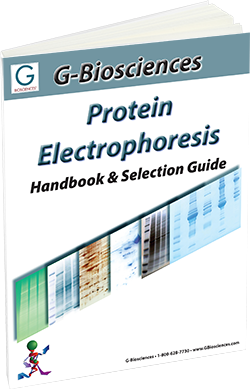 The guide provides details of protein electrophoresis, including SDS-PAGE, native gel, Tris-Tricine, Bis-Tris, IEF, Zymography and 2D electrophoresis. Features products for gel casting, sample preparation, electrophoresis and gel staining.
The Protein Electrophoresis Handbook features the following sections:
Protein Acrylamide Gel Preparation


SDS PAGE gel recipes and chemicals for gel preparation

Electrophoresis Separation

Protein Markers and Ladders
Electrophoresis Running Buffers for multiple gel formats
Protein Reduction & Alkylation Tools
2D Electrophoresis Accessories

Electrophoresis Sample Preparation

Electrophoresis clean up tools for 1D and 2D gel electrophoresis

Protein Gel Stains


Coomassie Stains
Silver Stains
Fluorescent Stains
Reversible Stains
Glycoprotein Stains

Gel Drying and Fixing Solutions
Cell Lysis and Protein Extraction
High Abundant Protein Removal
Protein Fractionation and Enrichment
Cleanup and Concentration of Samples
Power Supplies
Complete the form below to download now to quickly find the key to better protein resolution!